Join the National Academy of Medicine (NAM) on June 12 as it hosts the second webinar in its Culture of Health Program Webinar Series.
Date/Time:

June 12, 2019, 3:00-4:30pm ET
This webinar will begin on June 12 at 3:00pm ET. To join the webinar at this time, please click here.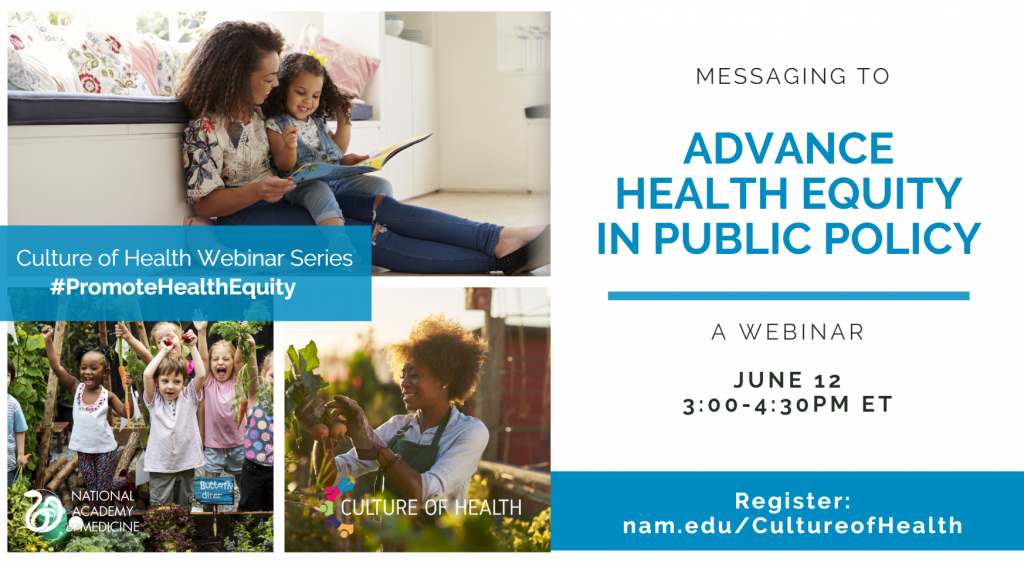 The National Academies report
Communities in Action: Pathways to Health Equity
concluded that health equity is crucial and health inequity is costly. Communities across the country are deploying action strategies to reduce health inequities.

However, it can be challenging to effectively communicate and message the value of health equity and ongoing efforts to diverse stakeholders.
Voices for Healthy Kids
,
a joint initiative of the Robert Wood Johnson Foundation and the American Heart Association, developed a messaging guide that provides custom-built messages and insights for policy advocates to further the advancement of health equity. This guide provides an overview of shared values and the need to harness these values in mobilizing decision makers to take action.
Join the NAM for a webinar where experts provide research-based tips and techniques for advancing health equity in public policy. A case study will illustrate how value-based messaging has proven effective in creating common ground while unifying communities and decision makers to create needed change. A community representative from WE ACT for Environmental Justice in Harlem, NY will provide reactions to the webinar presentations.